Bright's Grove Dental
Establishment, health and dentist at Bright's Grove Plaza, 2600 Lakeshore Road, Brights Grove, Sarnia, ON N0N 1C0, Canada. Please contact Bright's Grove Dental using information below: address, phone, fax, email, opening hours, customer reviews, photos, directions and more.
Opening hours
| | |
| --- | --- |
| Monday | 08:30am — 05:00pm |
| Tuesday | 08:30am — 07:00pm |
| Thursday | 08:30am — 05:00pm |
| Friday | 08:30am — 05:00pm |
X
Photos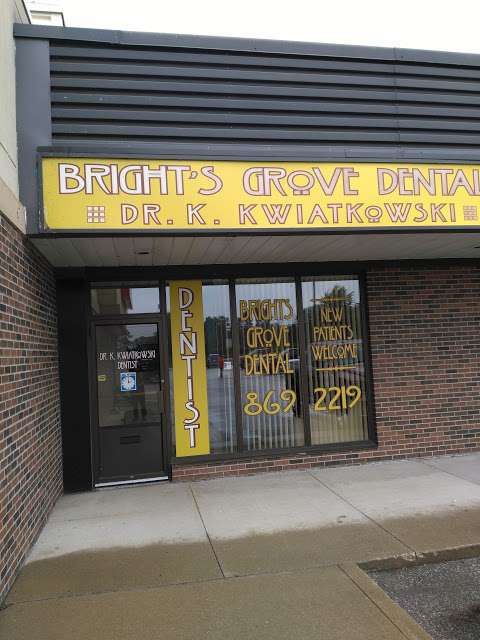 Reviews of Bright's Grove Dental
Sandy Dawson Added 2018-09-28

★ ★ ★ ★ ★

I had two broken teeth within a week and as I am about to have major surgery I needed an emergency visit. I was given an appt for the following day. As a "dentist-phobe" I was very nervous but Dr. Kwiatkowski and her staff immediately put me at my ease. Very friendly but highly professional, she explained every procedure clearly. I have more dental treatment to come but she has cleared me for my surgery next week. I actually look forward to going back for a visit. I highly recommend this practice.

Janice McAlpine Added 2018-08-26

★ ★ ★ ★ ★

A bonus for the community. Dr Kathy has done wonders for our dental problems, is compassionate as well as willing to see for emergencies. All of the staff is very professional.